(a) Document Procurement and Delivery Service
Access to information holds a very important key to socio-economic development of a country. This information explosion over the world during last few years has been amazing. Millions of journal/periodical articles are being published every year in various fields of science and technology. Access to these types of information in right time is of paramount importance to the progress of individual institutions and societies as well. Libraries being the storehouses of human knowledge and information cater to the requirements of different branches of knowledge. Thats why library, information and documentation centres disseminate information and knowledge in different forms of services.
The cost of information resources has been rising tremendously with the increase of volume of information calling for heavy investment in the libraries, information and documentation centres of the country. Consequently the buying capacity of the information providing institutions have been lowering resulting in limited access to information resources. So there is an increased demand for information, which are not available in oneís own institution.
BANSDOC has been providing document copy delivery service with procuring those from similar local and foreign sources. Firstly, it does so from its own library collection.
If the userís requested document is not available in the BANSDOC† Library then it procures from some international information sources. BANSDOC has co-operation programmes of activities with a number of renowned international libraries, information and documentation centres over the world and procures documents from them like: National Library of Australia (NLA), The British Library and Document Supply Centre (BLDSC), National Institute of Science Communication and Information Resources (NISCAIR) and European Patent Office (EPO) on payment basis. The payment to the foreign document supplier is made in the form of UNESCO Dollar Coupons.
BANSDOC delivers research papers/articles to its users mainly by procurement through placing orders to its counterpart different international libraries, information and documentation centres.
The Document Delivery Services offered by BANSDOC during the year 2009-10 is given below in tabular form:
Sl. No.

Organizations Placing Requests

Requests Received from Users

2009-10

Documents Delivery to Users

2009-10

1.

Bangabandhu Sheikh Mujib Medical University (BSMMU)

213

196

2.

Medical Colleges and Institutes

217

139

3.

Rajshahi University

74

61

4.

Bangladesh Council of Scientific and Industrial Research (BCSIR)

18

10

5.

Bangladesh Agricultural University (BAU)

48

22

6.

Bangladesh University of Engineering and Technology (BUET)

7

6

7.

Other Research Institutes

126

103

Total

703

537
During the period 2009-10, BANSDOC has received 703 requests of foreign documents and delivered 537 documents.
Document Delivery Services of BANSDOC during last five years:
†
| | | | | | |
| --- | --- | --- | --- | --- | --- |
| Description | 2005-2006 | 2006-2007 | 2007-2008 | 2008-2009 | 2009-10 |
| Request Received | 3,167 | 2,746 | 1,627 | 1,018 | 703 |
| Document Delivery | 2,620 | 1,722 | 988 | 487 | 537 |
| No. of Pages | 28,653 | 14,044 | 11,410 | 4,329 | 4,201 |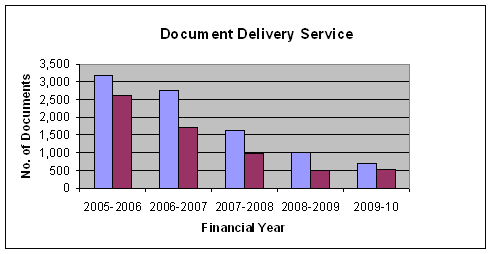 BABSDOC has procured and disseminated 4,201 pages of photocopies of foreign journal articles as per demand of 169 scientists /researchers during the period 2009-10.
Now demand of foreign document is receiving through email ( docu@bansdoc.gov.bd & bansdoc@gmail.com) . Any researcher can send his demand through email without coming in BANSDOC personally.